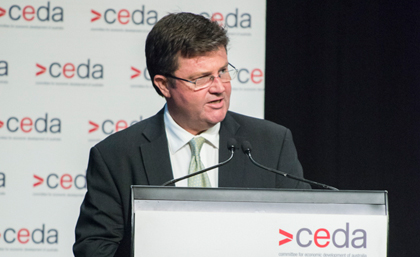 Professor Paul Gollan, Director of UQ's Australian Institute for Business and Economics (AIBE) has put the call out for industry and universities to work closer together.
Speaking at a recent Committee for Economic Development of Australia (CEDA) event, Professor Gollan outlined changes he says were necessary to increase the relevance of academic research and maximise outcomes for industry.
"While eight of Australia's universities are in the world's top 100, it's no secret that Australia is lagging behind the rest of the world in commercialising research," he said.
"This was a major point raised in CEDA's Economic Political Outlook report and it's costing Australia dearly in lost commercial opportunities."
Professor Gollan acknowledged industry organisations may have some hesitations working with universities due to past experiences and preconceptions.
"There is an idea out there that universities are impossible to deal with, they don't understand the commercial imperatives, they don't respect deadlines, they're bureaucratic and they don't talk about IP," he said.
"UQ is trying to change this perception through the establishment of institutes like AIBE, increased industry collaboration and commercialisation of research."
Established in 2014, AIBE was designed to bridge the gap between academia and industry.
"We focus the brains of world-leading experts on the challenges and opportunities organisations face," Professor Gollan said
"Our experts can apply their knowledge and rigorous academic modelling to help ensure you're on the front foot for what the future may hold.
 "Harnessing knowledge and applying it to real issues is important for both industry and universities and the experience of working together and gaining different perspectives is extremely beneficial for all parties."
Find out more about AIBE
Watch Professor Paul Gollan's talk at CEDA EPO 2016
source: CEDA 2016