Researchers at the Australian Institute of Business and Economics (AIBE) are investigating how the rise of artificial intelligence (AI) and robotics in industry, known as the Fourth Industrial Revolution, is set to effect the Australian labour market.
In a recent presentation to a delegation from China's Ministry of Industry and Information Technology at UQ, Research Assistant and social scientist Alyssa Cowie spoke about the potential uses of AI in the Australian horticulture sector.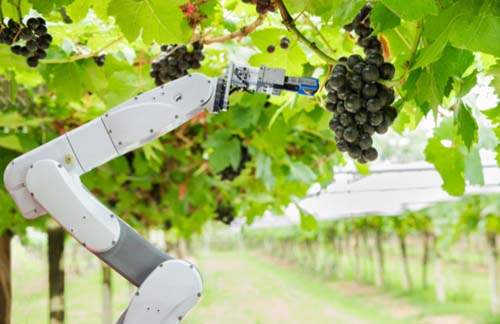 Ms Cowie said in contrast to global predictions that AI would possibly cause widespread unemployment, the uptake of AI in the horticulture sector would lead to increased job prospects for Australian citizens.
"New technology has the potential to fill many of the labour shortage gaps currently, or soon to be, experienced in the horticulture sector," Ms Cowie said.
"Firstly, tonnes of produce remain unharvested every year in Australia due to the inability of farmers to fill picker roles.
"Once they become commercially available, picking machines can fill this gap.
"Secondly, there has been a trend in young people migrating off the family farm and into more cosmopolitan regions, in search of both education and job opportunities.
"With a generation of farmers ready to retire, there will be a predicted shortage of farm owners in the coming years.
"To this end, the uptake of AI within the horticulture industry can reshape the role of farm owner – this will no longer be a predominantly manual job.
"Instead farm owners will perform tasks much more in line with modern business owners/entrepreneurs such as marketing and sales.
"Through modernising the role of farm owner, young people may possibly be enticed to stay on the farm."
In addition, Ms Cowie outlined a few of the possible innovations to be expected within the next decade concerning AI and agriculture in general, and horticulture in particular.
These include wearables in agriculture, data science, blockchain, the development of online marketplaces and platforms, and big data analytics.
These innovations in turn are predicted to give rise to a number of new jobs in horticulture.
"We will see AI generate new roles on the farm such as a biomaterials production manager, drone operator, ecosystem managers, energy farmer, sustainable food analysts and geo-engineers," Ms Cowie said.
The presentation was delivered as part of an international program called Developments in Artificial Intelligence run by UQ's Institute of Continuing and TESOL Education.
The focus of Ms Cowie's research is on disruptive technologies and their ethical and policy implications.
Media: Alyssa Cowie, alyssa.cowie@uq.edu.au or Caroline Enright, c.enright@uq.edu.au or +61 7 3443 1321.