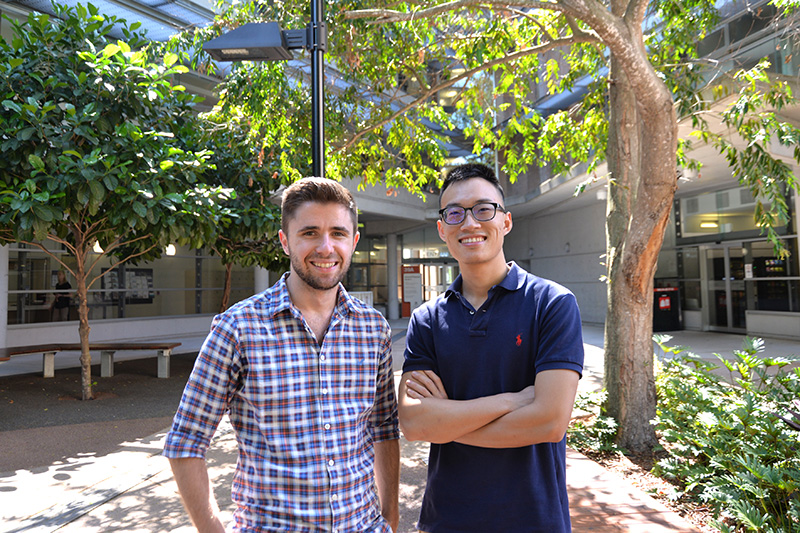 Two University of Queensland students have developed a framework to determine the short-term and long-term commercial effects of terrorism thanks to a scholarship established by UQ alumni.
Bachelor of Commerce (Honours) student Jake Sullivan and Bachelor of Econometrics (Honours) Zi Yin focused on the September 11 attacks and the consequences of these attacks for financial markets as part of a research project with UQ's Australian Institute for Business and Economics (AIBE).
The students each received a $5625 Matthew McLennan and Richard Howes Outstanding Honours Collaboration Scholarship, which encourages teamwork between high-performing Honours students from the UQ Business School and School of Economics at UQ.
Mr Sullivan said the framework might help some people recognise effects of terrorism that they may not have considered before and highlighted some areas for further research in the area.
"One of the long-term effects we consider is a so-called "terror tax" – whereby terrorism raises the cost of doing business through higher insurance premia, expensive security precautions and larger wage costs to compensate at-risk employees," he said.
"This scholarship says a lot about the culture here at UQ and that people who go on to have such great success feel compelled to share their success with people at the School is in no small part attributable to the School's teaching staff."
Mr Yin said the biggest benefit of the scholarship was being able to work with someone who approached problems in a different way.
"Without this scholarship, I wouldn't have had the chance to explore this topic and work with someone with different skills to me," he said.
"I have learned a lot in terms of applying econometrics theory into the practice question, for example how time series modelling could be used to estimate the effect of terrorism into different industries.
AIBE Director Professor John Mangan said the scholarship recognised top performing business and economics students.
"By receiving this scholarship, it sets the students apart, and it provides them with an opportunity to work on current topics in business and economics and to work collaboratively on a piece of work, which is similar to the working environment."
Following graduation, Jake will start a position at the Commonwealth Treasury in Canberra.
Zi has applied for a PhD in econometrics with various universities in the US and the UK with the plan to pursue a career in academia.
Matthew McLennan and Richard Howes (both UQ alumni) donated gifts for The Matthew McLennan and Richard Howes Outstanding Honours Collaboration Scholarship, which was established in 2014 and awarded annually to two students.
AIBE leverages world-class collaborative research capabilities across the UQ Business School, School of Economics and TC Beirne School of Law. The focus for the institute is on Australian and global innovation with new horizon research addressing industry's current needs and future challenges.
Media: Caroline Enright, AIBE Communications, +61 7 3365 2596 or c.enright@uq.edu.au