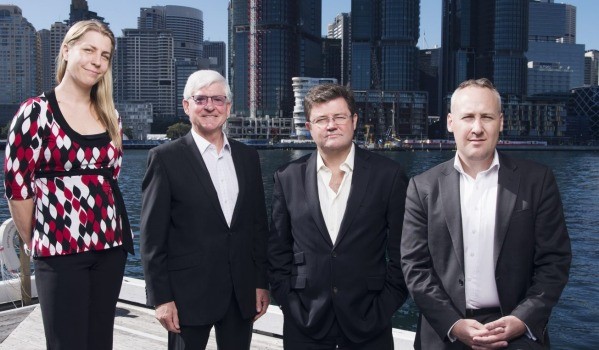 "Beer and pizza. It sounds stupid but it works," says Petra Andren, chief executive of ATP Innovations, a business incubator owned by four major Australian universities.
Andren believes that getting academics and executives to talk to each other over some carbohydrates and alcohol works better than all the reviews, funding and tax incentives being aimed at lifting Australia's dismal record of universities and business collaborating to commercialise ideas.
"It's not really something you can impose from on high. Getting more collaboration requires a cultural change," she tells an AFR BOSS brainstorming session for solutions to the problem.
Andren is better placed than most to nudge the country off its bottom-of-the-OECD rank in terms of sandstone working with skyscraper or start-up.
ATP's Multiplier Program – the fancy name for the beer-and-pizza nights where industry representatives meet the incubator's "deep tech" start-ups and university researchers – is one contribution to the cause.
Of course, a Meat Lover's Supreme is not the only inducement for academics and industry to form businesses. One way a start-up can fulfil the 100 points test, which is required to qualify for the generous investor tax incentives coming into effect on July 1, is to be in partnership with a university working to commercialise its intellectual property.
Tax breaks
Meanwhile, the man at the centre of the Turnbull government's "ideas boom", veteran venture capitalist Bill Ferris, who is chairman of the new statutory body National Innovation and Science Australia, has given his strongest hint yet that future research and development tax breaks will be skewed towards collaborations with universities.
Along with chief scientist Alan Finkel and Treasury boss John Fraser, Ferris has already handed a review to the government about the $3 billion it gives up each year in R&D tax breaks, and an April speech left little doubt as to how it might be reprioritised.
"On collaboration, the National Innovation and Science Agenda will change the criteria for allocation of research dollars to universities and supports the Watt review's recommendations. [The 2015 tertiary education probe by Ian Watt, former secretary of the Department of Prime Minister and Cabinet, concluded that universities should be judged less on the number of their academics' publications and more on their impact]. Until this happens, there is little incentive for researchers and their host establishments to want to and be able to be entrepreneurial, and to reach out to business," he said.
"Of course it takes two to tango, and so the other side of this riddle of low collaboration is business. That is, business is failing to reach in to universities and institutes for ideas and solutions. Business enjoys over $3 billion per annum through tax incentives designed to lower the cost of private R&D; but nowhere in the R&D tax incentives is there any requirement or incentive for collaboration."
Apart from the carrot of tax breaks, there is also some cold hard cash under NISA to bring universities and business together. The $200 million CSIRO Innovation Fund and the $500 million Biomedical Translation Fund, vehicles where both sides will invest alongside each other and which are expected to be under way in the next few months, will facilitate significant incremental collaboration for commercialisation, Ferris says.
Culture over cash
At the recent BOSS roundtable discussing how to generate more collaboration, Petra Andren wasn't the only expert that kept coming back to culture over cash.
According to Chris Roberts, a BOSS True Leader 2014, director of ResMed and the former chief executive of Cochlear, the translation of academic research into commercial product has never happened in the sequence that most people assume.
"The linear model isn't dead, it never existed," he says. "This idea that you do some basic research, then you do some applied research, then it gets translated, then it gets commercialised – that's the push model and it rarely, if ever, worked that way.
"The smart universities are starting to structure themselves around the pull factors. What are the problems we're trying to solve? And they're organising themselves around those instead of a silo for maths, a silo for science and so on."
However, a rebuild for the real world needs to break the strongest arm behind the old push model governing universities: that coveted tenures are not gained through a broad base of knowledge.
"You get tenure through depth, not through a multidisciplinary approach," says Paul Gollan, director of the Australian Institute for Business and Economics at the University of Queensland.
"They get their chair after 10 or 15 years focused on a particular discipline and that's where they have difficulty working in a commercial environment."
T-shaped skills
The ability to solve "wicked problems" such as climate change, where boundaries are unclear and major behavioural changes are required, is best challenged in a multidisciplinary way, Roberts says.
"The conversation starts with everybody asserting the importance of their own discipline, but then being able to recognise the importance of others and starting a dialogue across them," says Roberts.
It's called T-shaped skills, where the vertical bar of the T represents depth of expertise in a single field, while the horizontal bar is the ability to collaborate with experts in other subjects and apply that accumulated knowledge.
One of the BOSS Young Executives of 2013, Beau Leese is in the business of building more Ts, both as entrepreneur-in-residence at the CSIRO (he was previously its head of strategy) and for his own experiential education start-up, Intersective.
He organises events such as innovation challenges, involving corporate mentors, which attempt to break down the disciplinary barriers between university students and do for the institutions what he helped do for the CSIRO while he was there full-time between 2010 and 2015.
"The CSIRO is now essentially 7000 separate projects. It's become an applied research organisation," he says.
Interdisciplinary teams
An example for Australian universities to follow could be that of Arizona State University, which in March received a $US2.86 million ($3.89 million) private grant to create an entrepreneurial mindset among its engineering graduates.
"I love the fact that it's based around the 'three Cs'," Roberts says. "Curiosity, connections and commercialisation. It will teach them not to ask, 'How should I build this?' but 'Should I be building it at all?'"
In Australia, initiatives such as Data61's Ribit are encouraging student researchers to contribute to start-ups and awaken their own business-building skills.
However, Andren from ATP Innovations is doubtful that "post-docs can always be turned into entrepreneurs" in their own right.
"Interdisciplinary teams are the way to make it happen," she declares.
The rise of accelerators such as BlueChilli has in part been a response to the failure of university attempts to commercialise their own research, says the Sydney-based accelerator's general manager of corporate innovation, Colette Grgic, in a separate interview with BOSS.
"In my experience, to have someone that's great at both research and commercialisation is extremely rare," says Grgic, who previously worked on translating innovations at the University of Queensland.
"We're about creating entities where universities can benefit from their intellectual property with ownership at arm's length, rather than owning 100 per cent of nothing."
The government has attempted to build its own bridges by co-funding 30-odd collaborative research centres and now six industry growth centres. The results produced by these attempts to bring researchers, businesses and customers together has been mixed, in Chris Roberts' view. "It comes back to Petra's point that you can't impose this stuff, it's got to be organic."
More agility
Getting more bang for our research buck doesn't just require universities to change their habits.
Two of ATP Innovations' shareholders, the University of NSW and the University of Technology, Sydney, offer the majority of their research discoveries, inventions and intellectual property for free through the Easy Access IP scheme, now used by 26 research organisations internationally, including London's King's College.
"I try to place those technologies with my incubator companies, but it just doesn't work as well with bigger companies," Andren says.
"The scheme is meant to be all about one-page contracts, but then you get the lawyers at corporates wanting to write these big licensing agreements, because that's what they're paid to do and what they've always done."
More agility on both sides of the university-business conundrum must also be accompanied by a more global outlook, Intersective's Leese says.
"There are not enough people asking how we leverage the $1 of R&D happening inside, to the $10 of R&D that might be happening outside."
Like Leadership with the Financial Review on Facebook. Follow us on Twitter.