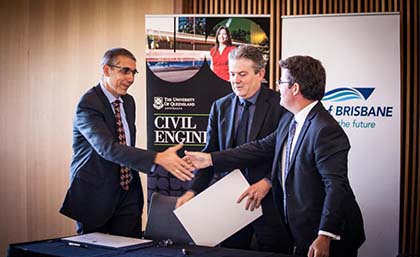 A new three-year research venture has been signed by the University of Queensland (UQ) and the Port of Brisbane Pty Ltd.
The aim of the venture is to build UQ capacity in the areas of channel deepening, reclamation and other port-related activities. This capacity will be built by establishing new research and teaching positions in AIBE and the UQ School of Civil Engineering.
The research venture emerged from a tripartite cooperation between the Port of Brisbane and the Schools of Engineering and Economics at UQ. Leading up to the signing of the agreement, Associate Professor Valentin Zelenyuk and Professor Flavio Menezes have worked with the Port of Brisbane to develop and implement a methodology to forecast container traffic and motor vehicles shipped through the Port.
A strategic advisory board comprising of UQ and Port of Brisbane representatives will guide the venture. The venture is funded by $1m contributions from UQ and Port of Brisbane, respectively. AIBE is looking forward to collaborating with Port of Brisbane in this important area of research.
Further detail on the venture is provided here.
---
Explore current research projects and how this partnership is working to future-proof the Port of Brisbane.